IP Search Service
We have been providing a variety of IP related services including patent, design and trademark search, obtaining non patent literature, and translation etc. Cooperating with local patent firms, we meet a wide range of needs from customers all over the world.
Our experienced IP researchers provide professional strategies and suggestions. Based on large IP information database, we conduct accurate researches according to your specific requests.
JPDS is assigned as the selected search agency of "Support for surveys of prior art for SMEs, etc." by Japan Patent Information Organization (Japio).
| Patent and utility model search | Design and trademark search | Copy service | Translation service |
Patent and utility model search
Search queries and methodologies are determined on hearing technical fields and search policy from customers. After the deep screening of search result, the report is provided with some comments.
Prior art search
Prior art search is conducted to find the relevant technologies to evaluate the novelty and inventive steps before filling or request for examination.
Infringement search (Freedom to Operate search)
In order to prevent your products from violating competitors' patent(s), infringement (FTO) search is conducted to find the patents having the related claims.
Invalidity search、Search material for information provision
Invalid search is conducted to find the technology that will possibly make the competitive patents invalid so that you can exploit your invention freely. Not only the machine retrieval but the manual screening of NPLs can also be available.
Thematic search(Collection of similar technologies、related patents)
This search is conducted in the phase of research and development to collect relevant patents and grasp the trends of technologies.
SDI(Selective Dissemination of Information)
The latest patent information will be monitored on a regularly basis and selected documents automatically. Based on requests, the selected documents can be made more specific.
Service of technology fields
Machine
Industrial equipment, transportation, component, containers and packaging,
civil engineering and construction
Electricity/Electron
Device, semiconductor, electric products, electronic goods,
information communication, electric power
Software
System control, image processing, amusement, business model
Bio/Chemicals
Chemicals, medicals, agrichemicals, foods, bio technologies
(except for genes/amino-acid sequence, alloy and macromolecular composition)
Others
Business equipment, office and stationary equipment, furniture,
House articles, clothes, toys
Patent analysis and patent mapping
Patent analysis conducted by software of big data (macro-analysis) can be operated together with manual inspection in specific technology field (micro-analysis).
Design search
Design search service
The search is conducted based on name of the applicants, .products and classification according to your requests and the report is provided in an abstract form or a book-binding, which can be used as reference material. Since the search is conducted by machine retrieval, the service will be offered by a competitive price.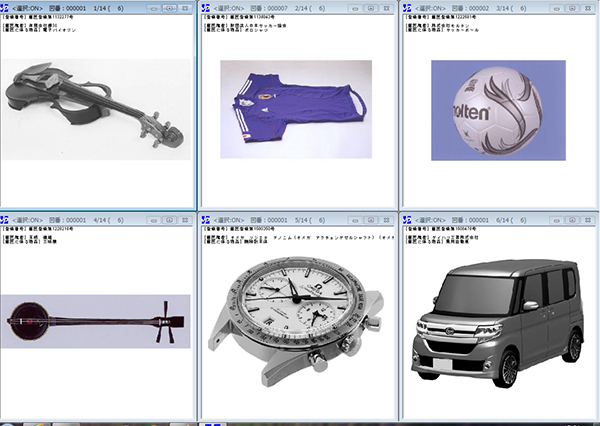 Copy service
Copies of patent and citation documents, file wrapper, NPLs, journals and newspapers etc. can be obtained from libraries, universities and domestic institutes. The applicant name for obtaining file wrapper and registry will not be your name but JPDS. NPLs in US file wrapper ("OTHER PUBLICATIONS") and citation documents are also available to include/exclude in the delivery. Out-of-print books and hard-to-find documents will also be obtained from related authorities.
File Wrapper
| | Basic fee | Copy fee |
| --- | --- | --- |
| Domestic(electronic) | 3,500 JPY | Free |
| Domestic(paper) | 3,500 JPY | 80 JPY/ page |
| Foreign countries | 13,000 JPY | Actual expense |
※Additional fee may apply due to different delivery requests (CD-R or paper delivery).
NPLs
Basic fee
Copy fee
Related institutes
2,000 JPY
200 JPY/page
Domestic libraries
(NDL etc.)
3,000 JPY
100 JPY/page
Hanrei Jiho (Law Cases reports)
Hanrei Times (Law Times Reports)
Judgment of the court
3,000 JPY
100 JPY/page
Overseas institutes
libraries
6,000 JPY
Actual expense
Translation service
We can provide translation service of related IP materials such as patent documents, academic materials and contracts. As the official agency of China Intellectual Property Publishing House, we can offer high-quality translation in Chinese. Not only European languages (English, German and French) we can also provide efficient translation service of Asian languages with cooperation of local agents..
Translation fee
Into Japanese
Per 400 letters
From Japanese
Per 22 lines
From English
4,000 JPY
To English
7,200 JPY
French
6,000 JPY
French
9,300 JPY
German
6,000 JPY
German
9,300 JPY
Spanish
6,500 JPY
Spanish
10,000 JPY
Italian
6,500 JPY
Italian
10,000 JPY
Korean
6,000 JPY
Korean
9,300 JPY
Chinese
6,000 JPY
Chinese
9,300 JPY
※Additional fee of 30%-50% may apply due to different translation requests.
Moreover, for countries that English information are available in JP-NET database(major countries, India, Taiwan, Brazil, Mexico, South Africa, Israel etc.), speedy and favorable prices can be offered by machine translation.