JP-NET
The Internet patent information retrieval service "JP-NET"
JP-NET - 4 reasons to choose-
High speed search and display
Dedicated browser enables you to search and display thousands of documents speedily and improves the efficiency of patent search!
Functionality and workability
JP-NET combines multiple functions with user-friendliness.
Advanced functions in simple interface streamlines your research works.
further details for various formats of displaying
Result list enables you to review the patents together with the legal status or family information. For details, text viewing with highlighting bar, and multiple sub-functions such as link to legal status and patent family and full image viewing can be selected.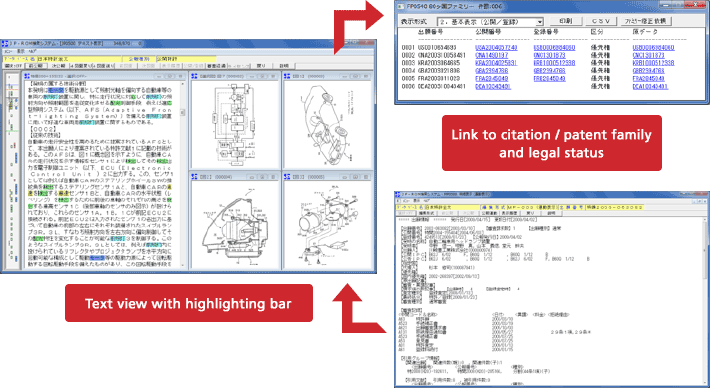 further details for abundant output formats
Achievement
More than 2,700 companies, public organizations, universities and research institutions have introduced JP-NET services.
Resonable price
Provided at a fixed fee from 96,000 JPY/year (Japanese patent and utility model), JP-NET also offers volume discount for researchers, engineers and company-wide use.
In-house use
1ID
5ID
10ID
50ID
Japanese Patent
and Utility model
96,000
360,000
480,000
1,200,000
JP Legal Status
36,000
120,000
180,000
420,000
JP-MAP (optional)
36,000
120,000
180,000
420,000
Japanese Design
60,000
240,000
360,000
1,080,000
Japanese Trademark
60,000
240,000
360,000
1,080,000
Worldwide patent
96,000
360,000
480,000
1,200,000
Command line search
(optional)
60,000
-
-
-
*Yearly flat rate of Japanese Yen (JPY)
Coverage Information
Database
Year
Japanese patent & Utility model
Published patent application
1971 ~
Published utility model application
Japanese translation of PCT international application
1979 ~
Domestic re-publication of PCT internal application
Japanese translation of PCT international application
(utility model)
Registered utility model
1994 ~
Examined patent application publication
1971 ~ 1994 (last publication)
Examined utility model application publication
Granted patents
1971 ~
Examined utility model registration
Legal status
Legal status(Japanese patent, utility model, design and trademark)
1964 ~
Japanese Design, trademark and trial decision
Japanese Design
1964 ~
Japanese trademark
Registration number 1 ~
Trial decision
2000 ~
Worldwide patent
US patent application
2001 ~
US patent
1976 ~
Europe (EP-A/B), International application (PCT)
1978 ~
Wide coverage of worldwide database
Worldwide data are accesible with fixed fee. Also it is easy to refer legal status and family information.
Feature1:Cross retrieval within 79 countries is available in English
Feature2:Family information of 80 countries including Japan
Feature3:Batch downloading of PDF, Excel and CSV
Feature4:Visualization of citations and family information
JP-MAP
JP-MAP option enables you to analyze 300,000 patents at maximum by applicant names, classifications and key words etc. Your search result can be visualized in various graphs.
Citation map(Japanese patent & utility model database)
Back and forward citation made by patent examiners can be displayed. Applicant ranking and link to each patent document are also available.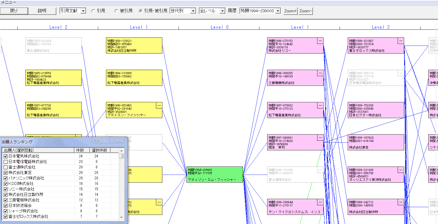 80 countries family & citations map (Japanese and worldwide database)
The relationships of the patent and its patent family members can be displayed among 80 countries (JP, US, EP and other DOCDB countires).